Security Consulting
CAT Eyes security consulting services are delivered to your company by retired military and law enforcement professionals. We have been contracted to do work with the US Border Patrol, National Aeronautics and Space Administration (NASA), Trailways Bus, Coach USA, Academy Bus and others. We are proud members of the International Counter-Terrorism Officers Association (ICTOA), Veterans of Foreign Wars (VFW), and the American Legion. Our President serves as the Chairperson of the Security Committee for the American Bus Association, member of the DHS Infrastructure Protection's Information Sharing working group, and is active in numerous Homeland Security Exercises and Initiatives. CAT Eyes has written and administered over $4 million dollars in Homeland Security grants for our customers
Company Security Assessments
Company Security Plans (includes OHSA and COOP) Planning
Training Exercise development
Federal Grant Writing
Company Security Assessments
Through on site visits and corporate interviews our vulnerability assessment will include identification and evaluation of critical assets and infrastructure; Identification of vulnerabilities to those assets and infrastructure; Identification of weaknesses in physical security; the security of programmable electronic devices, computers, or other automated systems which are used in your industry; alarms, cameras, and other protection systems; communications systems and utilities needed for security purposes, including emergency response planning; and employee training.
For more information Contact us.
Company Security Plans (includes OHSA and COOP) Planning
Through on site visit and corporate interviews the Security Plan will include Occupational Health and Safety Act (OHSA) requirements, Federal Emergency Management Agency (FEMA) Continuity of Operations Plans (COOP) requirements and any other applicable requirements for your industry. The Security plan will include, but is not limited to:
Terrorist attack response plans with law enforcement agencies, emergency responders, and Federal officials; Security Training plan for employees; Enhanced security actions for company when the security level changes colors by the Secretary of DHS; Plans for providing redundant and backup systems to ensure the continued operations of the company's system in the event of a terrorist attack or a disaster, management checklists to respond to disasters, shelter in place procedures, bomb threat procedures, exercise plans.
For more information  Contact us.
Training Exercise development
CAT Eyes will develop an entire Multi-year Exercise plan tailored for your company or develop a single exercise. The CAT Eyes exercise team has planned and executed the entire scope of exercises from drills to full scale exercises (see below). They can also represent your company at exercise planning conferences to ensure the exercise will meet your corporate goals in participating in a government run exercise. For more information  Contact us.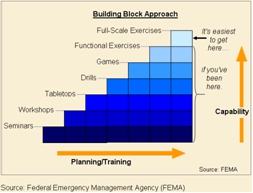 Federal Grant Writing
CAT Eyes has written and administered over $4 million dollars in grants.  In addition to writing the grants we handle all the administration. If you believe you are eligible for a particular grant then contact us. We will review the grant you think you are eligible for and then interview you. If we feel you are eligible and have a significant probability of obtaining the grant we will write it for no upfront costs.  Based on a solid track record of performance CAT Eyes works on a contingency basis, we only get paid if you get grant funds; if you do not receive grant funding, we do not receive payment. For more information Contact us.